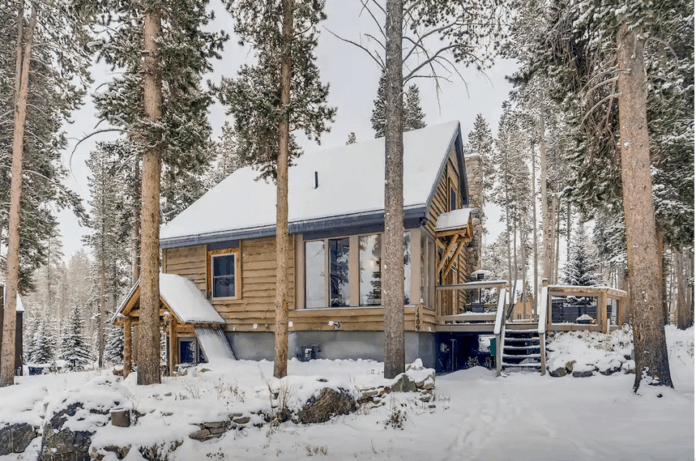 Colorado is synonymous with scenic landscapes and outdoor adventure, and the city of Breckenridge is no exception. Famed for its historic town center, year-round activities, and world-class skiing opportunities (after all, it's nestled in the middle of the Rocky Mountains!), Breckenridge is one of the most stunning vacation destinations in the United States.
However, you don't have to be a skier to enjoy the pristine landscapes of mountains, rivers, and tree-lined forests. Breckenridge is a great place to visit with pets, thanks to numerous outdoor activities like hiking, swimming, and walking. Your four-legged friend will love exploring nature (while you'll love the impressive views of the snow-capped mountains).
Although there are plenty of pet-friendly rentals to choose from, we did the leg work and compiled a list of the top dog-friendly places to stay. Some of these homes have fenced yards for Fido, while others are located next to walking and hiking trails. Whether you're visiting Breckenridge for fun or relaxation, you can't go wrong with one of these top-notch Airbnb vacation rentals.
1. Luxury Ski Chalet for Large Groups with Hot Tub and Billiards
Fees: $150 per stay.
Policies: Pets must be approved beforehand.
Fence: No
It doesn't get more lavish than this stunning ski chalet in the heart of the Rocky Mountains. Sprawled across 6,500 square feet, this 5 bedroom 5 bathroom home (affectionately nicknamed Alpine Majesty) is large enough to host you and up to 13 of your luckiest friends. The most stunning room in the house is the impressive great room, with cathedral ceilings, exposed beams, and a gas fireplace. We also love the copper roof accents and hickory floors, which adds a touch of luxury to this opulent cabin.
Off the great room, you'll find the gourmet kitchen, which has been outfitted with top of the line Viking and GE Monogram appliances. The master suite sits on the top floor and features its own living room, sleeper sofa, and en-suite bathroom with a dual-head shower and private jacuzzi tub. After a day of skiing, unwind in the rec room, which boasts an entertainment center, billiards table, and wet bar. Or take a soak in the outdoor hot tub, where you can enjoy pristine views of the natural surroundings.
2. Modern Log Cabin with Ping Pong and Hot Tub
Fees: None listed.
Policies: None listed.
Fence: No
A stunning mix between a traditional log cabin and a modern home, this 4 bedroom 3.5 bathroom vacation home is guaranteed to be your home away from home. The open floor plan features a chef's kitchen, a living room with vaulted ceilings, and a dining set for six. Walk up the spiral staircase to find the bedrooms, or head down until the lower level for a game of ping pong.
One of the coolest features of this house is the sunroom, which has an authentic falcon chair (ski lift chair) where you can pose for those one-of-a-kind Instagram photos! We also love the outdoor hot tub, where you can soak your aching muscles while being completely surrounded by Mother Nature.
3. Victorian District Breckenridge Airbnb with Fenced-In Yard and Hot Tub
Fees: $150 per stay.
Policies: Pets must be approved beforehand.
Fence: Yes
This newly remodeled 3 bedroom 2.5 bathroom home is close to everything you could possibly want to see in Breckenridge. Located in the picturesque Victorian District, this vacation rental is close to ski shuttles, shops, and plenty of parks for you to walk with Fido.
In addition to the bedrooms, this home also has three fireplaces, a master bathroom suite with a soaking claw foot tub, and a gourmet kitchen that most chefs can only dream of. Step outside into the backyard, and you'll find a fenced-in and landscaped patio with a hot tub, gas grill, and outdoor dining set.
4. Forested Home with Top-Notch Amenities for Large Groups
Fees: None listed.
Policies: None listed.
Fence: No
This spectacular lodge-style Airbnb cabin is ideal for anyone traveling with adventurous pets. Nestled in between the tree-lined forest, this 4 bedroom 4.5 bathroom home has a plethora of walking and hiking trails that lead straight to your backdoor. And if you're headed to the mountains, the ski shuttle is just 2.5 blocks away.
Inside, you'll find a grand great hall with a floor-to-ceiling stone fireplace and expansive views out into nature. There's also a gourmet kitchen, a dining room set for 12, and a basement level rec room with a wet bar, billiards table, and exhilarating entertainment center. On the outside, there's a sunroom, a spacious deck with a hot tub, and an outdoor bbq gas grill.
5. Quiet Lodge-Style Retreat on Peak Seven
Fees: Depend on the size and number of pets.
Policies: Pets must be approved beforehand.
Fence: Yes
Escape to the great outdoors when you stay in this quiet 5 bedroom 3 bathroom lodge on Peak Seven. The interior of the home has been tastefully decorated in a rustic style, with wood-paneled walls, antler chandeliers, and even a wood-burning fireplace. You can cook meals in the large chef's kitchen or grill up a few burgers on the incredible outdoor deck.
This lodge is also a great place to stay with pets, thanks to the pet-friendly fenced in yard. Just make sure you keep an eye on their whereabouts – this home is known for moose and other wildlife visitors who like to stop by every once in a while.
6. Cozy Cabin Near Main Street and Ski Shuttle
Fees: None listed.
Policies: Pets must be approved beforehand.
Fence: No
Enjoy the best that Breckenridge has to offer when you stay in this charming cabin in the center of downtown Colorado. You'll be able to easily walk to Main Street, where you'll find numerous restaurants, shops, and cafes. The home is also just two blocks from the ski shuttle and a two-minute walk from Carter Park, so there's really no need for a car when you stay here.
The home has 2 bedrooms and 2 baths (one master bedroom and another room with a queen bed and bunk beds), although it can accommodate up to 8 guests thanks to the pull-out sofa in the living room. The open kitchen and dining room area is also a great place to relax and mingle with your friends after a long day of sightseeing or skiing in Breckenridge.
7. Spacious Home Near Main Street with Hot Tub
Fees: None listed.
Policies: Pets must be approved beforehand. 2 dog maximum. Extra costs for larger dogs. No cats.
Fence: No

If you're traveling to Breckenridge with a large group, then look no further than this spacious 6 bedroom 5 bathroom home. With enough space to sleep up to 16 guests, this 4,500 square foot remodeled home is the perfect setting for a family gathering or a vacation escape with friends. There are three living rooms, three bars, and two laundry set-ups, so everyone can have a bit of privacy while staying in this rental. Or everyone can enjoy the dramatic views from one of the three decks, or relax in the eight-person outdoor hot tub or by the cozy wood-burning fireplace.
The location of this home also can't be beaten. You're just a few minutes from Main Street, where a variety of shops and restaurants lay at your fingertips. And if you're in town to do some skiing, then you can hitch a ride on one of the free shuttles nearby.
8. Main Street Cottage with Outdoor Hot Tub and Fire Pit
Fees: $100 per stay.
Policies: None listed.
Fence: No
Ideal for couples or a small family of four, this cozy Airbnb cottage is the perfect place for a weekend getaway in Breckenridge, Colorado. Enjoy all the comforts of home, including luxury bedding, a 65" Roku 4K TV with Netflix, a fully stocked kitchen, ultra-high-speed internet. There's also a landscaped back yard with a fire pit, so you can easily take your pet out for short walks or potty breaks.
Main Street is located just three blocks from the home, so you're also never more than a few minutes away from restaurants and shops. Not to mention, the home is also four minutes from Breckenridge Gondola, 30 minutes from Arapahoe Basin, and 45 minutes from Vail. Best of all, you're located close to numerous walking and cycling trails, where you can explore the best of Breckenridge with your four-legged friend.
9. Centrally Located and Well-Appointed Remodeled Home
Fees: None listed.
Policies: Pets must be approved beforehand.
Fence: No.
This charming 2 bedroom 1 bathroom home will make you feel like you're living the country-rustic lifestyle. This cabin has recently remodeled wood-paneled walls, a spacious all-inclusive kitchen, and a living room with a wood-burning fireplace and TV. While the bedrooms are on the smaller side, there's still more than enjoy room if you're traveling with smaller pets and young kids.
Location-wise, this cabin is a five-minute walk to the bus stop, which will take you up to the mountains, so you can easily spend the day skiing or snowboarding. The neighborhood is also great for families and pets, with multiple trails, parks, and amenities close by. If you're looking for a centrally-located home that won't break the bank, then consider this superb cabin in Breckenridge!
10. Modern Townhome with Hot Tub and Dry Sauna
Fees: $200 pet fee per stay.
Policies: None listed.
Fence: No
This 3 bedroom 3 bathroom townhouse has everything you need for a relaxing ski vacation to Breckenridge. Not only does this three-story home have a large entertainment center and fireplace, but it also has a six-person hot tub and a built-in dry sauna. Trust us – your muscles will thank you for choosing this rental after a long day of skiing and exploring!
In addition to the relaxing amenities located on the property, this townhome also boasts an open kitchen, a master bedroom with an en-suite bath (with a walk-in shower), and picturesque views of the forest from almost every room. Although it'll feel like you're completely immersed in the landscape, the home is relatively close to the slopes, South Main Street, and the Breckenridge Golf Course, which makes it a great place to stay for anyone who wants to see the most of what Breckenridge offers.
11. Private Cabin on Small Pond with Mountain Views
Fees: None listed.
Policies: None listed.
Fence: No
If you're eager to spend a few nights with nothing but nature surrounding you, then consider this modern cabin for your vacation to Breckenridge. The home is perched on the edge of a small pond next to the Blue River (which is known to attract moose), shrouded by two-acres of pine and aspen trees stretching as far as the eye can see. Wake up to the sounds of birds chirping and leaves rustling while you enjoy your morning coffee from the expansive outdoor deck. Or unwind with a glass of wine as you admire the stars from the outdoor hot tub or fire pit.
Inside the cabin, you'll find 3 bedroom and 2 baths, which is more than enough space to comfortably sleep 9 guests (and their furry friends too!). In addition to the bedrooms, this cabin also boasts an open living, kitchen, and dining area with open windows looking out onto the mountains. Whether you're interested in a tranquil escape away from the city or a cozy cabin where you can spend the weekend skiing, then you'll want to reserve this cabin before it books out!
12. Stunning Remodeled Cabin on Private One-Acre Lot
Fees: $50 per pet per night. Refundable $500 damage deposit fee.
Policies: None listed.
Fence: No
Spend the weekend in this exclusive remodeled cabin on a private one-acre lot steps away from the ski slopes and downtown area. This breathtaking 3 bedroom 3 bathroom home has been updated to include an expansive great room, a chef's kitchen with bar seating, and a full basement rec room with sweeping views of the mountains. From the modern wood-panels to the crisp white tiles in the bathroom, everything about this cabin is aesthetically pleasing.
The outdoor wrap-around deck also has a hot tub and wicker lounge set where you'll enjoy miles of unobstructed views of the surroundings. While this home is a great place to stay for winter, it also is perfect for a summer retreat, with a hammock and horseshoe pit on the property.
More Pet-Friendly Stays Nearby
---
Doggy Check In is reader-supported and may earn a commission when you book or purchase using our links.